The Early Years (1984 -1996)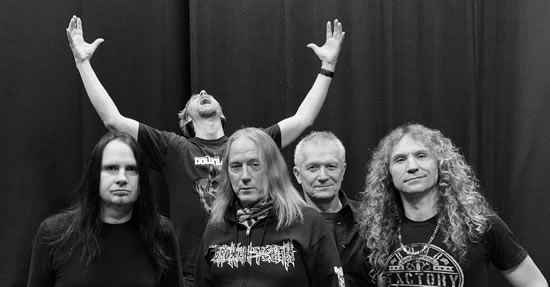 Originally from the Erie, Pennsylvania cover-band Crossfire, the Danish born vocalist/guitarist Henrik Ostergaard and fellow Crossfire band-mate and bassist Jimmy Chartley traveled to San Francisco to form Dirty Looks in 1984. Fellow Crossfire bandmate Boyd Baker joined them a year later.
While in California and upon their return home to the East Coast, the group had a revolving door membership, yet released an EP and three independent albums before Atlantic Records offered them a recording contract. For their major label debut, Dirty Looks consisted of Paul Lidel (guitar), Jack Pyers (bass) and Gene Barnett (drums). The resulting album, Cool From The Wire in 1988, entered the Billboard chart, while getting substantial airplay on MTV for their video for the song "Oh Ruby". Produced by Max Norman (Ozzy Osbourne, Megadeth, Lynch Mob), it is still regarded by many as one of the best hard rock albums of all time. Twenty five years later, Cool From The Wire continues to sell online and in record stores all across the globe.
For the follow-up album in 1989, there were conflicts with their original record producer Beau Hill, and the original recordings for Turn Of The Screw were scrapped, but the re-worked album would be the group's most successful release reaching higher on the Billboard chart. The President of Atlantic Records and the higher-ups of their new management team Hard To Handle thought that it would benefit the band if they hired a producer who had current albums on the Billboard charts. Beau Hill was hired to record the album but the band felt that he was not capturing the street sound that they were looking for. The Hill sessions were scrapped and John Jansen was brought in to produce Turn Of The Screw, which was released in 1989. After the album was released, the band toured in promotion.
Their album of outtakes, Bootlegs was released in 1991, then the group broke up in 1993 following the release of Five Easy Pieces with Ostergaard forming Rumbledog with Robin Crosby of Ratt and Paul Monroe of XYZ as guests, Lidel hooking up with Dangerous Toys (and later Broken Teeth and Adrenaline Factor) and bassist Brian Perry resurfacing in Prong and Bubble.
Ostergaard began recording under the Dirty Looks moniker again in 1994, to record the Chewing On The Bit album. Then he worked with Rumbledog again, releasing an album in 1995.  The lineup continued with bassist Jassen Wilber, drummer Ron Sutton, guitarist Mike Ondrusek and guitarist Mike Smith. Ostergaard put out two releases as Dirty Looks in 1996. With the personnel above, minus Ondrusek and adding singer Gabriel Scott Robison, Ostergaard took a back seat in the vocal department and formed the Burning Orange project who released an album before splitting up in 1996. After that, Ostergaard retired from the music industry to focus on family life.